There are several routes leading to the famous Inca Ruins of Machu Picchu. Each one is beautiful in its own right and everyone will have their own opinion on which is best. However, when it comes to determining the best way to Machu Picchu, a more personal question must be asked:
"What type of traveler are you?"
How do you like to travel?
Do you have much time?
Are you physically fit?
How much time do you have?
This can be broken down to help you choose what route to Machu Picchu fits you best. The most important question being, "How much time do you have available to travel?" This makes the largest difference when deciding what path to take, since often trips take several days and can be exhausting.
That leads us to our next question, "How physically fit are you?". There are some routes that require a good amount of athleticism and endurance, so you'll want to make sure you're ready for a challenge. Also, the altitude on some routes can be over 15000 ft (4500 m) so you will want to be sure you can handle the altitude. 
But no worries! Hundreds of visitors make it to Machu Picchu everyday! So you will make it too! Talking to you we will always find the right Tour at Daspe Trevel for you and modify it to your needs!
The way to Machu Picchu
For this post we will outline three of our favorite routes that you can take to reach Machu Picchu:
Direct train to Machu Picchu
Salkantay Trek
Inka Jungle Tour
However before discussing these tours in depth, let us highlight a few other options:  Lares Trek, and Choquequirao Trek.
Lares Trek: This is a 4 day tour that can also be done as a completely separate trip, but if you would like to take a route that is off the beaten track then you might look into doing this tour. However, you will end up traveling by train to Machu Picchu at the end of this trek. The trek is of average difficulty and will reach altitudes of 15,680 ft (4780 m).
Choquequirao Trek: If you have a lot of time on your hands, this 7 to 11 day tour will take you to the enchanting ruins of Choquequirao on the way to the more famous Machu Picchu. It is a pretty intensive trek and will get you up to altitudes of 15320 ft (4670 m).
Short on time? – Ride a train to Macchu Pucchu

This option is great for those short on time and those not wanting to have a very physical journey.
Pros
You will be on a train, allowing you a chance to relax on your way to Macchu Picchu.

This trip can also be completed in a single day.

Option to extend the journey to 2 days if you wish by staying one night in the town of Aquas Calientes.
Cons
Although the ride is beautiful, you will not get the chance to see much diversity.

No interaction with local communities along the way.

Spending a full day with room for little else.

No additional adventures like trekking, biking, zip lining, or rafting.
Best for what type of traveler?
This option is best suited for people that are limited on time. It is also very fitting for people who would rather have a relaxing journey to Machu Picchu. This tour is very family friendly and appropriate for all ages.
The more active options
Salkantay Trek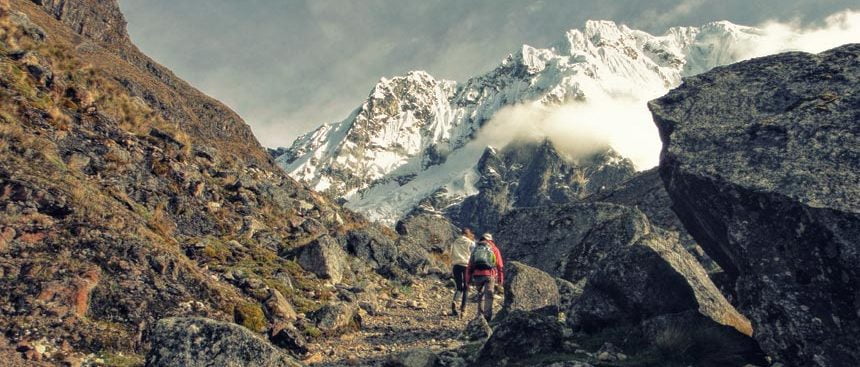 This tour is usually organized during several select months during the year, mainly from May to October. It is not recommended that you do this trek during the rainy season, which lasts from around November to April. Basically it is an active tour that requires trekking the entire way and lasts for about 4 to 5 days, with the final day mostly in Machu Picchu.
Pros
This tour is all about trekking and will give you the opportunity to hike through some beautiful landscapes.

It is pretty warm during the day.

Plenty of time to explore the nature of the high mountains.
Cons
Accommodation will be mainly tents/camping.

Chillier nights.

It takes about 5 days.

You won't get the chance to travel through the jungle.

The high altitude of 15220 ft (4640 m) can be rather difficult to acclimate to.
Best for what type of traveler?
The challenging nature of this trek makes it suited for those that are physically fit and love trekking. If you love camping and being in the wild  then this could be the tour for you.
Inka Jungle Tour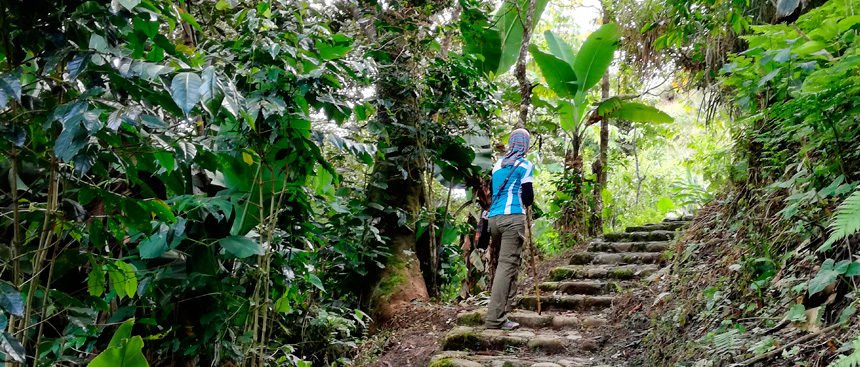 This tour is offered all year round and during it's 4 days you will have a variety of adventures along the way.
To begin you will bike from altitudes of about 14100 ft (4300 m) down to 4920 ft (1500 m), go rafting, and finish with a little bit of hiking. Then the second and third days will consist of trekking along ancient Inca paths and a chance to do some zip lining in the mountains! Finally, to conclude the tour you trek to Machu Picchu and learn about some of the history of the Inca Empire.
Pros
Great variety of landscapes included, from snowy peaks to humid jungles.

You will be biking, rafting, and zip lining.

Accommodation rather in hostels than tents.

The tour lasts for 4 days and can be reduced down to 3 if necessary.

There will only be at high altitudes for a short time.

You will have the opportunity to explore the jungle environment, possibly visiting coffee and fruit plantations.
Cons
This is a very active and full tour, you stay very busy

More risky activities making it a less family friendly option.

Be ready for some mosquitos.
Best for what type of traveler?
This is a great tour for those people that like extreme sports and living on the edge. It's also nice for people who want to have very active days, but want to rest somewhere more comfortable than a tent. So if you are looking for adventure and experiences but don't necessarily care about camping, this might be the tour for you.
What will you choose?
Finally we hope that this article has given you options to choose which route to Machu Picchu is best for you. Daspetravel also provides some other tours to Machu Picchu. If you have any questions about the tours, please feel free to contact us at info@daspetravel.com or via our Contact From