Palcoyo – one of colored mountains of Peru
Deep in the Red Valley (Valle Rojo) there rests a set of colored mountains, overlooked by the famous Ausangate Mountain. Those mountains are Palcoyo, accessible by a 3 1/2 drive from Cusco and a 2 hour hike.
The rainbow mountains of the Andes have become incredibly popular among tourists, due to Vinicunca Mountains opening as an attraction in 2015. Hundreds of tourists travel to the valley a day, often braving rain and mud, and heights of over 5,200 meters.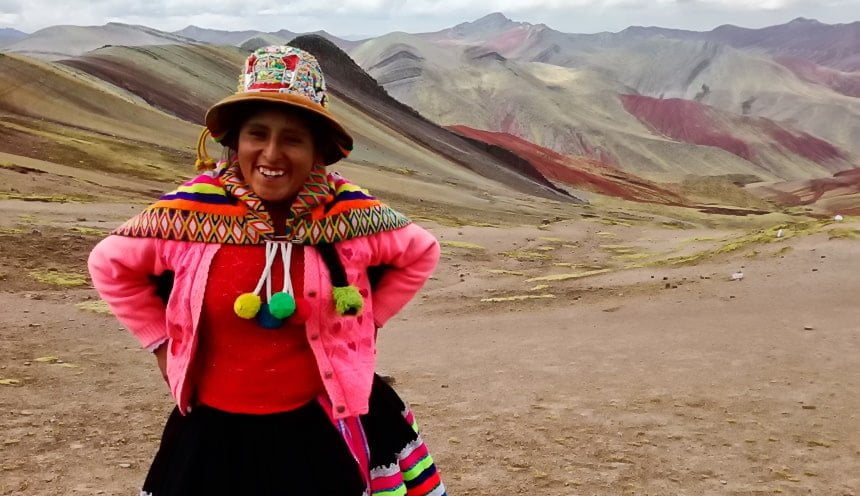 Crowds and altitude 
As Vinicunca has become so incredibly popular, there is a tendency for it to become overcrowded. You can expect to walk with a crowd all the way up to the top, and the chance that you will get a picture of just you and the mountain is almost nonexistent.
There's no doubt that Valle Rojo is beautiful, and you will see some of that beauty on the path to Vinicunca, the red hills surrounding the valley and the majestically white peak of Ausangate on the east side.
You also might find yourself a little light-headed, or even completely out of breath. You will be climbing over 700 meters during the two hour hike, and the majority of it is done at the end. This can be real tricky, especially if you haven't given yourself enough time in Cusco to acclimatize.
Palcoyo, a rainbow mountain experience of its own. 
While Vinicunca is known for it's altitude, and that picturesque Instagram photo at the top, Palcoyo is an immersion into Valle Rojo. Instead of climbing your way to the mountains, you walk alongside them, surrounded by the natural Andean atmosphere and all the colors the earth has to offer. Meet local Andeans among the rolling red hills, or get away and have a moment to yourself. What makes Palcoyo different? It's about the experience.
#1: The altitude is less intense
If you are one who is trying to see as much of the Cusco Region as you can, but are short on time, visiting Palcoyo should be on your list. The trek is:
shorter than Vinicunca, 1 hour 45 minutes in total
at a significantly lower altitude, 200 meters difference
more direct & less climbing
As you will be right in the middle of the Red Valley, the entire hike will be part of the experience. Just challenging enough to be an adventure, not to tough to have you pass out. (It happens!)
#2: The crowds are minimal, a more authentic experience
It's been just 3 years since Vinicunca was targeted as a tourist spot. Since then, droves of tourism buses can be seen, making their way directly to the little market that has sprouted just before the hike begins.
Palcoyo is a chance to drop yourself directly into the heart of the Andes. As Vinicunca takes up most of the rainbow-hued spotlight, fewer tourists know of any alternatives. Therefore, you have the chance to discover a world of winding trails, roaming alpacas, and families of Andeans living their daily lives.
If you're looking to experience the mountain ranges of Cusco and witness the Red Valley without having to wait in line for a photo, Palcoyo should be on your list.
#3 The traveling & trek is shorter. Stop by Q'eswachaka Bridge
Tourists to Vinicunca can tell you that one of the most unpleasant things about their experience is usually the time it takes to travel there. It is literally a full day, with tours always departing at a 3:00 a.m. start time and return around 6-7 p.m. There's little time for other sights, and the tourists are usually so tired the guests have no energy for anything else but sleeping afterwards.
Palcoyo, on the other hand, is a refreshing experience of itself. Start time is 6:00 a.m., early but really not too bad for a day of fun experiences. The travel time and hike are shorter, only 3&1/2 hours to drive there, and 1 hour 45 minutes of hiking. Yet you still have plenty of time to enjoy the scenery.
Q'eswachaka Bridge
Another perk of Palcoyo is its relative closeness to one of Cusco's UNESCO World Heritage Sights, the amazing Q'eswachaka, the last remaining Inca rope bridge.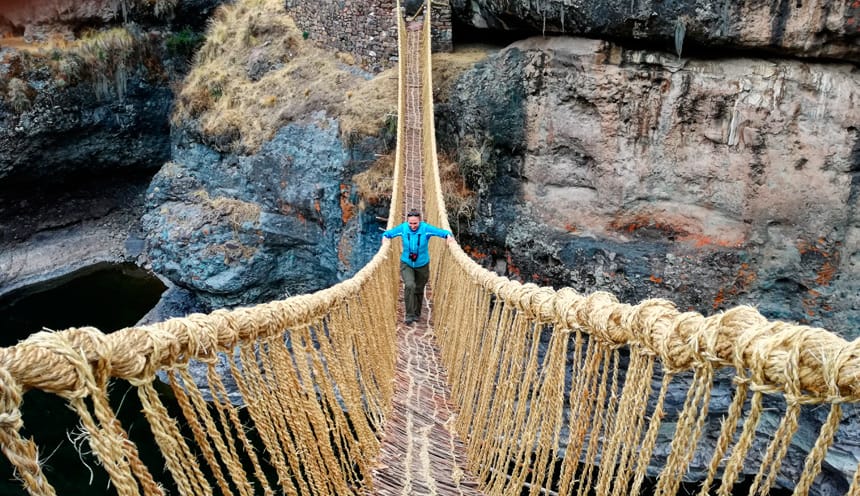 The pride and tradition of the local Quechue culture is kept alive by this bridge, hand-woven entirely out of braided grass. The entire community works together to rebuild it yearly. During this time (usually around mid-June) a festival is held. Workers, surrounded by their traditionally dressed neighbors, traverse the old bridge carrying the supporting grass ropes of the new one.
Seeing this bridge is an impressive sight to behold, and is reached only 1 & 1/2 hours after your adventure in Palcoyo. This makes the day a very full one, but steeped in authentic experiences: quiet paths along the red hills, local communities encountered along the way, and a little bit of Quechue culture.
Looking to have this experience for yourself? We offer a day tour to Palcoyo and Q'eswachaka for only $150 USD