Take your first steps in the sacred valley of the Incas
Ollantaytambo is a small and lovely town situated in the Sacred Valley of the Incas (Vale Sagrado de Los Incas). A lot of people pass it every day on the way to Machu Picchu. Only some of them decide to stay here for more than one day. However if they were, it is a really unique place with a lot of things to do and discover.
Ollantaytambo can be a great start point for trekking, hiking, biking or horse riding adventures. You can also combine some of these activities in one tour and thanks to that enjoy even more.

One of my favourite places near Ollantaytambo is Inti Punku (Sun Gate). Below you will find useful tips about horse riding and trekking from Ollantaytmbo to Inti Punku.
What to choose: only trekking or horse riding and trekking from Ollantaytambo to Inti Punku
If you are in a good physical condition and you like hiking, you can do a very nice, full day trekking from Ollantaytambo to Inti Punku. The round trip takes around 8-9 hours. It can also take 7 hours, but you will have to walk quite fast and not stop too much on the way.
But if you are not a big, big fan of hiking, you can choose the combination of horse riding and trekking. In that case the first part – almost all the way to Inti Punku you can ride by horse.
That part will take around 4 hours. And then only reach the top and go back on foot, what will take approximately  another 4 hours.
You can also finish horse riding more or less in the middle of the way to Inti Punku – after around 2.5 hours and do a little bit longer trekking. In that case you need another 1.5 – 2 hours to reach Inti Punku and then around 3 hours to come back to Ollantaytambo.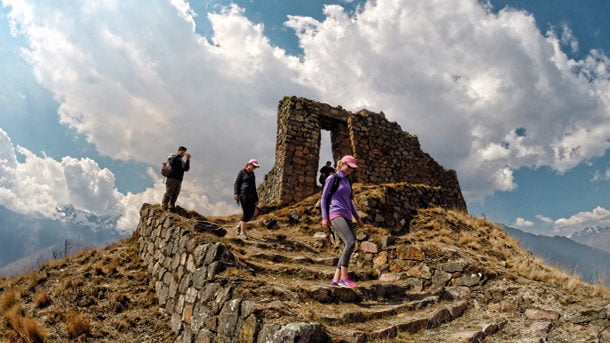 On the way to Inti Punku you will have opportunity to admire beautiful landscapes, with the snowy peaks – like Veronica and also you will have possibility to see some Incas ruins.
On the way back, around 25 minutes by walk from Ollantaytambo, you can stop for a while in the nice place looking like a swimming pool. You can also take a bath in that place. The water is very clean, just a little bit cold. Even if you will not decide to swim, it is worth to take at least short break here.
VIDEO – Horse riding and trekking to Inti Punku in Ollantaytambo
If you like horses, there are also other great places where you can organize horse riding. To get more information, check the article about: Where you can organize horse riding adventure near Cusco.