High up in the Peruvian Andes you can witness herds of llamas and alpacas. They live together: eating, playing, and walking with their pastors (shepards) These beautiful animals are an integral part of Peruvian culture, from when the Incas lived in Machu Picchu to current times. Peru is easily the best place to see these well-loved camelids.
Where is your best chance to see llamas?
The Central Andes and the Cusco Region is going to be your opportunity! It's common to see them walking among the villagers and around the countryside. Large herds of alpacas or llamas also wander along the more famous Andean treks. Try the Lares Trek or the Ausangate trek (the highest trek in Peru).
Another favorite location for Llamas is on the ruins of Machu Picchu. Right alongside the trail to that most famous viewpoint, there will often be a herd of Llamas hanging out. So it's easy to walk over and say hi, or try and snap a quick picture like we did!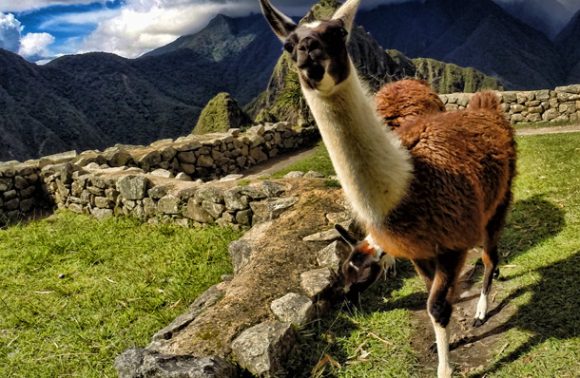 Seeing an alpaca or llama up in the mountains is a key part of the Cusco experience. As a result, Llama themed restaurants and souvenirs are all around the city. Sometimes you may even meet a Cusqueña walking in the streets, carrying a baby alpaca!
Looking for something to keep you warm in the chilly mountain air? Alpaca fleece is especially warm and found in many Cusco stores along the Plaza de Armas and Historical Center.
You know about Llamas and Alpacas, but have you heard about vicuñas?
Llamas and Alpacas may definitely be the most famous camelids roaming the Peruvian Andes. However they are not the only ones. Find out more about their non-domesticated cousins with DaspeTravel!