How to pack and what you need for your trip to Peru
When you leave to explore a foreign land, you like to keep your baggage as light as possible so that you can focus on enjoying your adventure.  Generally, it is best to pack one large backpack with just the essentials for the trip, trying not to exceed 50 lbs (23 kg). We often reccomend to pack an additional day backpack so you can carry around only what you need for a given day. Carrying around a huge backpack all day is just exhausting and unnecessary.
Whenever preparing to pack it is best to consider what the climate and environment is like at your intended destination. It may seem ridiculous, but a lot of people have packed only light clothes thinking its going to be a warm summer  when actually that place they just arrived at is deep into its chilly winter. Or perhaps, they have forgotten to pack the essential rain gear for the monsoon season that has arrived just in time for their tropical vacation. No matter the circumstance, check the weather of the place you are traveling to. 
Also, keep in mind that you will be in the southern hemisphere. Which typically means opposite seasons.
Next, you should consider what type of activities you are wanting to engage in. Obviously, you should bring hiking shoes if you plan to hike, but, again, it isn't uncommon to forget these things you think you would never forget. Which brings us to the most essential tool when planning for a vacation, a checklist.
Keeping track of everything
Just make a list of all those things that are absolutely mandatory for your travels. Consult the all-powerful internet and the glorious Google for information about where you are traveling to. For instance, in a lot of more remote places it will be a very useful to bring a water filter. And hey, isn't electricity a miracle? Don't forget to bring a flashlight or a portable charger for your camera so that you won't miss an incredible sight or shot when you are out in the middle of a jungle or desert. Besides, through the internet, you might also find some friends that have been to the place you are going. Call them up or meet for a coffee and chat about what they wish they had brought.
After you have made your list, it is time to commence the packing of everything on that list. If you have extra space in your backpack, great! Pack in some luxury or sentimental items that you think would bring a little bit of home with you. If your backpack is overflowing that's okay, just remove whatever you need the least and be sure that you won't miss it. You can't always pack what you want, but if you try sometimes you can pack what you need (yes, I know that was a bad joke but just give a little bit).
Okay, now let's discuss the most necessary things to pack for a vacation to Peru (the same items might be the best for other South American countries). This list is meant mainly for those travelers that are wanting to backpack and hike the trails and jungles of Peru.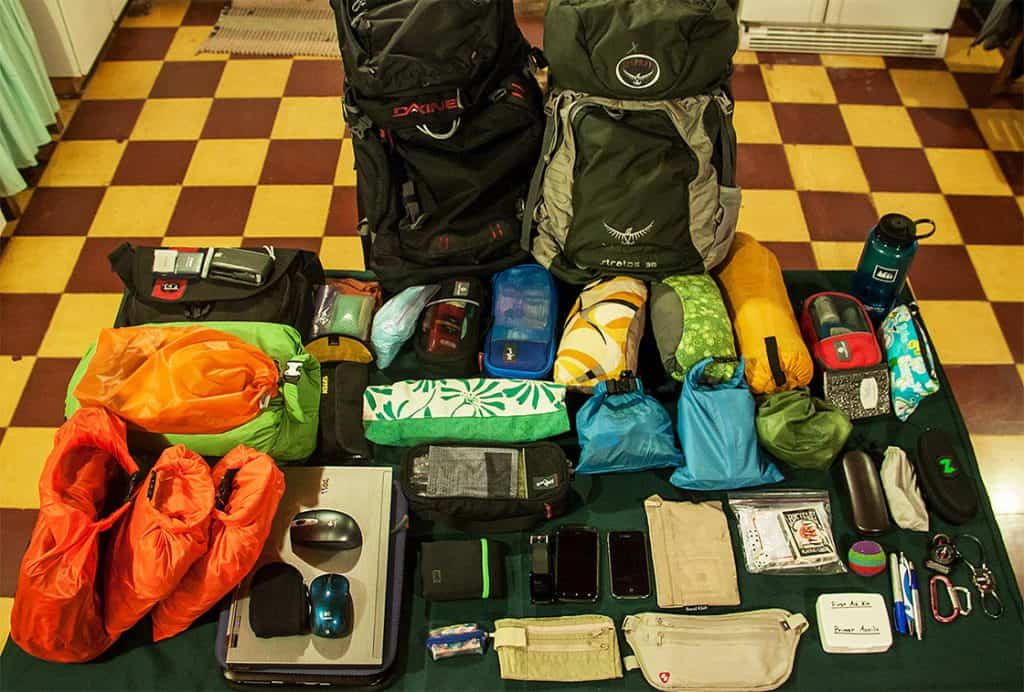 Our Peru packing-list for you
SHOES
• Trekking shoes (If you are planning to do a lot of trekking, you should have the shoes  that protect you up to the ankle and are waterproof).
• Sandals (great for mild treks; warm and/or wet weather)
• Slippers (for after showers and night-time)
CLOTHES
• 1-2 pairs of trekking trousers  (lightweight, quick-drying) 
• 4-5 pairs of socks (3 made of merino wool or smart wool – for trekking)
• 4-5 pairs of cotton underwear 
• 1 bra + 1 sport bra (if applicable)
• 4 T-shirts
• 2  Long Sleeve T-shirts (one thick and one thin – for humid weather)
• 1 or 2 pairs of leggings (then you will need only one trekking pants)
• Insulated Jacket (Down Jacket)
• Thermal underwear (for top and bottom) 
• Hat and gloves (to protect from wind and cold)
• Scarf
• Sun Hat
• Swimming suit
• Raincoat (recommended) or Poncho – light but strong.
OTHER
• Microfiber towels (1 Large – for the body, and 1 Small – for the face)
• A sleeping bag.
• Mosquito-net (if you plan to visit the jungle)
• Sunglasses
• Ear plugs
• Electricity adapter (a converter is also recommended)
• Small backpack (light in which it will be possible to pack things for 1 – 2 days of trekking)
• The waterproof bag for the most important things
• Wipes (hygiene and moisturizing)
• Flashlight and batteries
• Notes and pen
• Knife
• Duct tape
• Padlock(especially useful for luggage and hostel lockers)
• Cup, Fork, Knife, Spoon
• Repair Kit: needle, thread, a pair of buttons
• Laptop, Netbook, or Tablet (with appropriate charger)
• Mp3 player (with appropriate charger)
• The phone (with appropriate charger)
• Camera (charger, cables, and two memory cards)
• External Drive
• Wallet (small, soft)
HYGIENE SUPPLIES (most of these can be purchased in Peru)
• Bath gel / soap
• Shampoo with conditioner (small bottle)
• Toothpaste (large tube)
• Dental floss
• Toothbrush
• A razor
• Q-tips
• Deodorant
• Sunscreen (SPF-50 recommended)
• Small mirror
• Comb
• Sanitary towels tampons
• Tampons (if applicable)
• Hand Cream/Lotion
• Manicure Instruments (if you must)
DOCUMENTS:
• Passport
• Vaccination Documents
• Airline tickets
• Travel Insurance
• Credit card
• Color Photocopy (2 pieces) of: passport, vaccinations documents, travel insurance
• Pocket money ($100 recommended, but exchange to soles in 20, 10 Solesbills and 5 Soles coins)
Pack all of this and you can be confident and assured that you will have everything you need to make the most of your journey to Peru!
Everything packed and ready? Then it is time to find the right Tours of Peru for you! Contact us for more information of every tour and individual modifications!